Floating Communities
a Weblog by Ties Rijcken
Holland & Co.
Destination: Thames river, London, England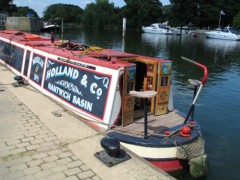 In all water habitats that I visit there's always a boat ride. All the nicer when unplanned. When skating in London next to the Thames and I spot an extremely narrow barge along the embankment. Holland & Co was written on it. A party was taking place and they invited me to join. I found myself on a typical authentic "narrow boat" During the industrial revolution these barges transported raw materials for the factories of the British Empire. They are so narrow because the locks in the newly dug canal system were barely seven feet wide.

I am shown around. The living quarters of the skipper and his wife are proportionally adapted to the dimensions of the narrow boat. The entire living space hardly measures up to 30 square feet. Space is used to the utmost: babies slept in a drawer under the bedstead. Nowadays the narrow boats have been converted to houseboats. The total space does not exceed 200 square feet, cargo hold and engine room included.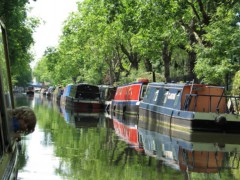 Accountant and skipper Clifford Watson and his wife tell me about the vicissitudes of life on the English channels. In England 16.500 people live afloat, mainly on narrow boats. These are eagerly sought after. They look cute and don't use too much fuel. People don't live there any more out of necessity. Just as in Holland and North America it was the lower classes that started living on the water. Skippers used to paint pictures of cottages and flowers on their barges because these were too expensive for them. Nowadays it has become an attractive and bohemian style of living. A newly built narrow boat may cost over 100,000 pounds, an amount that will buy you a nice looking cottage in Scotland.

Next day I went out to find Tagg's Island, where not only narrow boats and Dutch barges are reputed to berth, but also more modern arks. Walking along Hampton Court, I see Holland & Co passing by. Hee-Ho! A couple of minutes later I've got a ride. Clifford took me on a pleasant tour around Tagg's Island and continues his story. The infinite black and white swans all belong to the Queen of England. Celebrities like Richard Branson and Star Trek captain Picard have all lived on houseboats in 'Little Venice' and won important court cases for the boat dwellers.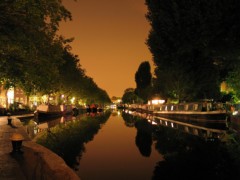 On this romantic narrow boat, I realize that none of the places where I have been so far has the same basic problems as Holland. Canada is said to be further advanced in living afloat. Nonsense. The Dutch tradition of living on water is richer than that of other Western countries and our future perspective is totally unique. New storage zones for superfluous water are combined with floating habitats. We are normalizing living on water. We are adapting laws and regulations, initiating projects on a grand scale. We are looking for technological innovation in order to pamper all human needs.

This process is taking place everywhere since the industrial revolution. The small scale, the romantic and the modest, is being replaced by megalomania and conformity. Traditional houseboaters may count on my sympathy. People, who are willing to make do with less, to tilt a bit, to bend over in order to reach another part of their dwelling and to go out in stormy weather to tighten the ropes, show character. Nonetheless the new water dweller is on the increase. In the bedroom he is in touch with the water in order to wake up with the ducks, but his house is unsinkable. Between the back door and the embankment he has a pleasant little garden. His house is affordable, because hundreds of the same are produced on the conveyor belt. Is the romanticism of living on the water being hollowed out? For the nostalgic bohemian, bodily comfort is not so important. The new water dweller wants to experience the magic of living on water, but to eliminate the dangers.

In England all this is not in the order. There may be an occasional flood, but storage zones are unheard of. The narrow boats will survive the flood. Maybe in our new Dutch water habitats we should include berthing spaces for our own narrow boats, the converted river barges. When the old and the new inhabitants meet and influence each other, we will find out how romance and comfort interplay.
An eclectic society
Destination: San Francisco Bay, San Sausalito, U.S.A.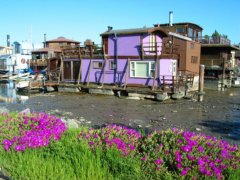 Stanford University, where I studied for a few semesters, is situated south of San Francisco. Friends of mine live nearby: right in the middle of Palo Alto, the top of the bill heart of Silicon Valley, in a kind of communal farm. They tell me that in the Bay area there are floating houses, in China Harbour for example, but most of them are to the North of the Golden Gate Bridge, in San Sausalito. They also point out Dutch born architect Sim van der Ryn, one of America's most popular eco-architects and teaching at Berkeley as well. He lives on a houseboat in San Sausalito. I manage to make an appointment with him. Sausalito is easily accessible by ferry from downtown San Francisco. It passes by Alcatraz and the Golden Gate can be seen from afar. I am on skeelers and a quarter of an hour after later I see the first houseboats.

The floating habitat in Sausalito looks quaint. The houseboats are moored to long wooden jetties with well maintained gates and fetching names like Isiquaya or Liberty Dock. It is obvious that the floating houses are self built. They look artistic, appealing and cosy. First and foremost they are all different. The jetties and gangways abound with colourful potted plants. My skeelers pleasantly rattle on the boards under me. The fleeting movement causes a pleasant shift in the scenery, like a slow pan shot in a movie.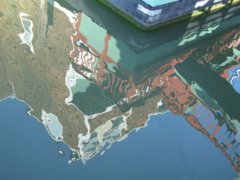 I set out to find Sim van der Ryn's place. The jetties narrow and broaden again. The houseboats are tightly packed, but there's enough room between to offer peeks at the houseboats moored to each other in the adjacent docks. The jetties branch out and are sometimes fixed, sometimes floating. The tide causes the floating parts of the jetties to move up and down for as many as five feet, which causes the whole infrastructure to be in a state of flux. I ring the bell at professor van der Ryn's boat. No one opens. I scan the boat. I had expected an artistic, ecological or maybe even modernistic design, but his ark looks nothing out of the ordinary, actually it's a bit dull. After a while I take my camera and decide to get a few shots of the surroundings.

In San Sausalito every dwelling is unique in size, material, shape and presence. Yet there's a mood creating a wonderful sense of unity. Why? In Holland the so called "Dwelling Wild" is taking wings, but nowhere has it remotely evolved with the same charm. Beauty originates among other things in striking a balance between unity and variety. What these buildings have in common is that they are all afloat and accessible by gangways. Furthermore there's the omnipresence of mooring posts; these add the rhythmical vertical element particular to floating habitats. Lastly there's the water. The reflection of the houseboats in the water, as well as the scenery alongside the houseboats, the uninterrupted string of rafts, skiffs and rowing boats in unison with the potted plants is both striking and beautiful.

To no avail I rang Sim van der Ryn's doorbell a few more times. Everything glows golden in the setting sun, but I feel vexed and let down. Someone proving himself inhospitable, even antisocial, by not keeping his appointments, contradicts my image of a sympathetic eco-architect. My expectations of interesting conversations about art and architecture, Berkeley, life in California, the sixties, the differences between Holland and the U.S, all taking place on a picturesque houseboat overlooking San Francisco Bay, are foiled.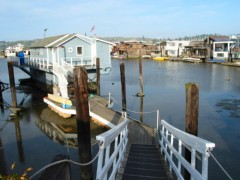 As I skated back, the pathway is blocked by two people pushing shopping carts passing each other. One of the two, a fitness instructor named Mark, invites me to his houseboat and guess what: he has a yoga teacher staying and I'm offered to join a session. Mark inhabits a modestly sized two storied ark. The front has been painted blue and the frames red. The interior is comfortable, eclectic and artistic. At the waterside there's a terrace offering a wide view of the bay. Little stairs lead to a sizable raft with skiffs roped alongside. Shrieking gulls encircle us and land now and then on the mooring posts cornering the raft. In the middle there's a grotesque bubble bath.

Amber, the yoga teacher, is a young woman from London sporting a pink hairdo. Less then a month ago she was working at a major law firm in San Francisco. Every day she wore a business suit. Outside the office building she smoked a packet of cigarettes a day with her colleagues and fat joints during the evenings. During the weekends, she met others yuppies at fashionable clubs, swallowing and sniffing all kinds of shit. Monday mornings she got into her business suit and played at law. From one day to the other she got fed up with it. She became a vegetarian, stopped taking booze and other drugs, and started a yoga course. Her pupils at the Sausalito houseboat are a Ukrainian with his Korean girlfriend, a Brazilian teenager, our American host and a stray Dutchman. During the session in the living we have a view of San Francisco, the terrace, and the bubble bath. Mark's housemate had prepared a wonderful dinner. The conversation was inspiring till finally everyone instantly fell silent.

Mark stands in the room, stark naked. "Will you join me?" Moments later Ukraine, Korea, Brazil, England, America and Holland are all joined in the bubble bath, gazing at the starlit sky of the western hemisphere. We discuss art and architecture, Berkeley and Stanford, life in California, the difference between America and the rest of the world, the sixties and we watch the lights emanating from the houses of Andre Agassi and Carlos Santana mirrored across San Francisco Bay. "Do you realize where we are?" says Amber. "Someone ought to write it down…
Sleeping in Seattle
Destination: Lake Union, Seattle WA, USA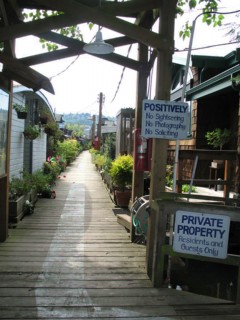 "On the other side of Lake Union you'll see the floating house from Sleepless in Seattle, you know, the movie with Tom Cruise. Oh, you know who you really wanna talk to? Carl, he's worked at Pete's for twelve years, he knows all the house boaters." On the way to Pete's grocery store I passed by numerous houseboat docks. All of them had signs saying such as "NO trespassing anytime," "Only residents or guests," "Absolutely NO photography." I still managed to shoot some floating houses and their abundant gardens in various containers from a permitted angle. It is true; the houses are really built on logs! This foundation provides unexpected advantages. The doorsteps of the houses and the docks are just above the water. The logs each have different sizes, lengths and colors and are overgrown with weed, plants and even small trees. The wooden foundation creates a soft and intimate relationship with the water. This discovery alone would have been worth my visit. Nevertheless, I managed to speak to Carl.

"Oh, you know who you really wanna talk to? Jeri Callahan – she's just published a book on Seattle's houseboats and lives on one. Well, speaking of the devil..!" A lady in her sixties enters the store with a peaceful smile on her face. Carl introduced us and I offered to treat her to a cup of Seattle's famous coffee. "I prefer Gin and Tonics, when we have sunshine! Come on, I will show you my house."...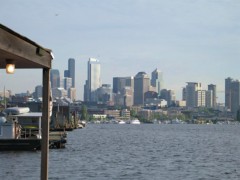 "It started about a century ago. Sailors, dock workers and seasonal workers started living on houseboats in bays and lakes that were then located just outside the city. Their number grew to over 2,000 during the Great Depression. Nowadays our floating neighborhoods are a little oases very close to downtown Seattle. We have water, cable, telephone, power and gas connections and a sewer system with gravity flow from individual houses to a central sump pump (on each dock) that moves the effluent to the sewer built around the lake in the mid 1960s. Since the sewer 'legitimized us' the prices of the houseboats have gone up dramatically."

Sipping our cocktails we watched the sun set behind the hills across lake Union. We started talking about family, religion and politics. Jeri is not the first American to talk about the Bush administration and apologize in shame. "The man is just an out-or-touch, greedy, headstrong bully," she declared. – I heard it before.

"Oops, weren't we talking about houseboats…? Some of the underwater property belongs to private owners and some is leased from the State. Most of the houseboat owners are organized in some form of a legal entity that has bought both the underwater real estate and the rights to the State lease. Members of the co-op or corporation buy a share that entitles them to their specific mooring space. The price is based on the volume, location and quality of their space. Since this structure provides a firm legal right to their property, banks are willing to loan money to buyers of a floating home."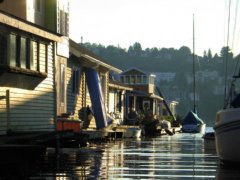 The story has similarities to the situation in the Netherlands. Living on water started as housing for poor people. Lack of space in dense areas, the often beautiful locations or a certain romanticism then attracted influential or even famous owners who were able to legalize their status and improve the infrastructure. Nowadays floating houses in Holland and Seattle often are highly attractive, popular and expensive dwellings.

It was getting late and too dark for me to roller-blade back to my hotel. "I might be silly, but if you want you could stay in the 'guest chamber' of my sleeping loft." Jeri offered me the full 'experience-a-houseboat package' and I gladly accepted.




Videoke in the Wetlands
Destination: Agusan Marsh, Mindanao, Philippines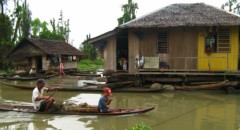 My Philippino friend's uncle, a TV journalist, and aunt, an environmental lawyer, both work in Manila. They quite know what's going on many of the 7000 islands of the archipelago and told us there is a floating village in the heart of Mindoro, the southern main island, on the swamp lake of the Agusan Marsh. Internet research then lead us to Mr. Bobby Timonera, who made the following keen statement after his visit to the wetlands: "while city dwellers have been used to anything mobile, from cell phones to notebook computers to PDA's, they are not quite ready for the ultimate mobile machine: the floating home.."

Mr. Timonera got us in touch with local journalist Chris, who brought us to Bunawan city near the Simulao river. An uncompleted bridge marks the town. It needs only one center piece to connect both shores but still hasn't been finished for over a decade now. As the story goes, the new major doesn't want the old one to get credit for building the bridge, so he doesn't finish it. A sad third world story.

On the shore, a set of enormous speakers puked out loud music and false singing of the Videoke Entertainment System. In Asia, Videoke is an extremely popular form of community entertainment. Music by Elton John or Lionel Richie is accompanied by images of American B-models in front of the Phoenix skyline, or blown-up breasted glamourgirls in neon-lit pools. The spectators sing along – it is said the "drugs" of the videoke experience are released when you forget your shame and sing along as loudly as possible, as false as it may sound.

As soon as the boat engine started we happily left the videoke singing behind. After an couple of hours we stopped at the entrance of the Marsh. We surprised Datu Kanliboko, chieftain of the Manobo clan. He allowed us to stay overnight in his community, if only when we would perform "the ritual". No bloodshed or tribal dances, but a kind request to the ancestors to throw a party. Beer, rum, pepsi-cola, cookies, candies and dried mudfish were not touched until after a long speech by Mr. Kanliboko.

During the party the chief and his wife talked ongoingly, mostly complaining about the way they were treated by governors and politicians. The party venue was an unfinished floating school; a floor, a couple of columns, thin walls and a roof. The other half of the school budget somehow disappeared after it was granted by the ministry of education to the local government. Again a sad third world story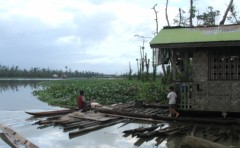 The houses float on bamboo and logs. Because so many building materials can be found in the vicinity, it costs only about fifty euros to build a house. It can be done in about two weeks. The water level can rise over six meters, so when you fish for livelyhood your house has to float. Also, the houses on water can better withstand an earthquake than the ones on land. Sometimes houses are moved when the scenery becomes to familiar, when the village needs to be reorganised or to make way for the spirits of the ancestors to pass. What happens when there is a storm? "We just let it pass and accept the damage", Datu Kanliboko explained.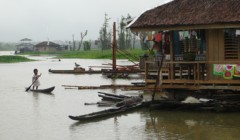 Our overnight stay, the third western visit ever, was far from comfortable. Four people squeezed on a plastic mat – ongoingly changing my position kept me from getting any sleep at all. Our tribal friends gladly borrowed our repellent to keep off the many mosquitos. Some westerners, mostly ones who haven't been to third world countries, have the opinion that western influence is corrupting indigenous lifestyles. Inspired by Rousseau, they highly value the idea of "romantic poverty" – why introducing petrochemical mattresses and synthetic insect repellent when people have learned over the centuries to live with inevitable discomforts of mother nature? I asked the chieftain his opinion on this issue. As the wetlands are opening up to tourism and birdwatchers, is he afraid Agusan Marsh will soon host a floating McDonalds? His answer was unexpectedly practical: "all we want for now is electricity. We need lighting at night and people want TV systems for Videoke. But I won't allow them to play it too loud. They will disturb the ancestors."


Staying along the Shore
Destination: Siem Reap, Cambodia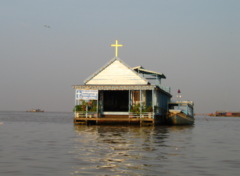 The last thing I expected after the dusty and bumpy trip to my next destination was a series of huge five-star hotels. I found out that Western and Chinese tourists fly straight into Siem Reap, have themselves taxied to luxurious hotels and join the herds visiting the temples of Angkor Wat: one of the Seven Wonders of the World.

Not only Angkor Wat, also the floating village was a tourist attraction. The floating community on the Tonlé Sap Lake consists of over a hundred Khmer and Vietnamese families. Cruising along the river towards the lake we passed one secondary and two primary schools on floating steel hulls. The actual village has more facilities for a small community: a floating hospital, a police station, floating shops, a big restaurant for tourists and even a floating church. Compared to the houses on stilts I saw in Thailand, the people here live even closer to the water. If built only a few inches lower, the living rooms would simply flood.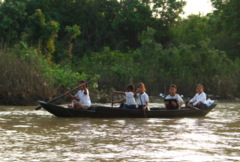 People in rocking chairs on verandas almost tumble into the lake. Chickens and pigs are kept in cages hanging right above the water, while an occasional pet crocodile struggles to break free from his submerged cage. Washing, swimming, cruising in motorized or human powered boats, people move easily through the water.

The houses more are moored to eachother or to stacks of branches. There are no docks, the houses can only be reached by boats. In case of a storm, the inhabitants tow their houses towards more sheltered areas. Some people have moved their houses away from the shore to be closer to the fishing grounds, to enjoy the vastness of the lake or maybe to escape from tourists peeping into their kitchens and living rooms. The cruiseboat company forced me to rent one of their big boats when I was looking for a fisherman to use a smaller one. I doubt wether the frequently photographed fishermen and housewives get a fair share of the tourism profits.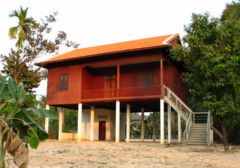 Trying to find out for what reasons people live in floating houses or on stilts, I asked a Khmer if his house was built on stilts in order to stay dry in case of floods. It is not just that, he said. During the rainy season water flows through the villages like small rivers and the soil turns into mud. In the dry season, powdered sand in the living room can be as unpleasant as muddy feet and is more easily swept out of a high house. The space underneath is used for storage and shade. Stilts provide a "high and dry" home in all circumstances.

But why floating houses? The habitants of the village are fishermen, who need to live close to the water for their livelihood. To sell the fish they have to be close to the land. Because of the high fluctuation of the water level, the shoreline migrates during the year. Logically, the houses need to move in order to stay along the shore. An ideal foundation for a mobile home is a floating one.
The King's Consolation Prize
Destination: Chao Phraya River, Bangkok, Thailand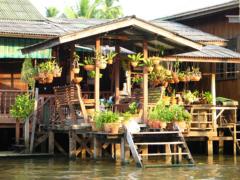 I'd heard rumours that large parts of Bangkok were allegedly built afloat. True enough, the hundreds of small boats at the so-called "floating market" are an important tourist attraction. The boat rides throughout Bankok are very popular. However, there is not a floating building to be seen anywhere near. I was enlightened by Thai boat haggler Sum Boon. He told me the government prefers building structures on stilts. Moreover, many Bangkok residents had apparently made some money during recent years and could now afford to buy their own land. Lucky for me, a floating village came to the surface from somewhere deep inside the recesses of Sum Boon's mind.

The next day I left early, joined by an interested German tourist who paid part of the fee. The ride was wonderful. We saw Thai living in the Delta: pile dwellings for miles on end, water taxis causing heavy traffic, floating gas stations – people, workshops and stores dangling their toes in the water.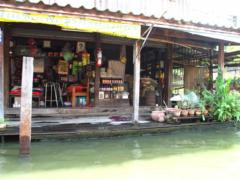 Countless domes and small temples were only connected to land by footbridges. Together, they made for a special atmosphere. I imagined the Thai people worshipping the Buddha at nightfall, chatting away or relaxing in the cool and peace of their aquatic surroundings.

It was getting around 3 P.M. Still we had not seen a floating house. After exploring many branches of the Chao Phraya River, we got stuck in a thicket of water plants. I made a drawing of a floating house and showed it to the captain. He shook his head. It was getting late and we turned around.

On the way back we made a stop at the king's golf course. As it turned out, the king kept a floating salon for special occasions. It was built on steel pontoons, moored by chains and poles, and connected to land by a modest footbridge. The exterior was dominated by temple-like ornaments. For the sake of coolness and a good view of the water it had been left completely open.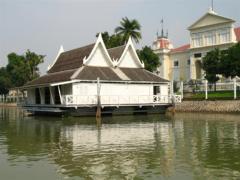 The king had given me a consolation prize. His remote salon was all that was left of my mental image of a city a quarter of which was supposed to have been completely built afloat. Had I been taken in by the water plants or by Sum Boon? Maybe I should do my research better next time.


---
Ties Rijcken graduated in 2003 at the faculty of Industrial Design Engineering at Delft University of Technology. His Cum Laude MSc thesis was on "Products for Floating Neighbourhoods". He worked for ABC Arkenbouw at the department R&D and as a freelancer contributed to the design, realization and innovation of houseboats and floating foundations. Since April 1 2005, he works on his doctorate in Innovative House-Construction at Delft University of Technology, faculty of Architecture.