For Rent / Te Huur
Ground floor apartment (with garden) along a canal in historic Delft
Vlamingstraat 50: Grachtenpand voor gastdocent
Sorry, rented out now
try again in 2018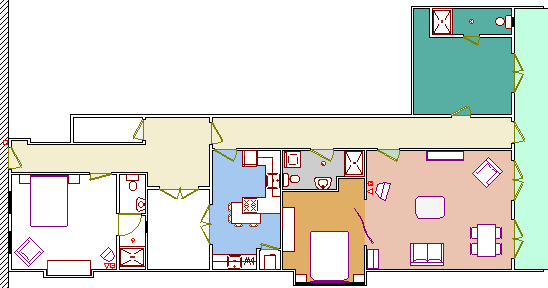 Click on any of the colored areas to see what you can rent. Click on the dashed part for a street impression.
The house is on one of the quietest canals of Delft, yet very much in the center of this historic city in Holland. The house has a relatively big garden with a pond and a shed in which the garden table etc. are stored.
You rent all the colored areas (including the whole garden) plus a patio to put your bikes plus the closet to put the vacuum cleaner etc.
The main bathroom (there are two) has also a washing machine and a dryer. The kitchen is well equipped and you can eat there with your family.
The rental price is € 1250 per month; gas and electricity are paid seperatly. Free Internet (ADSL and WiFi) and cable TV.
If you want to rent this place, please send an e-mail to f.schoute@gmail.com