Eco-resort on a river high in Colombia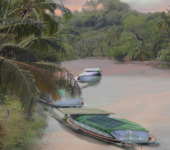 Captain Santiago Ferro would like to fly you by water plane to a nice vacation in one of his eco-resorts floating on the Amazon or on Lake Tota in Colombia. But first he needs some help in working out his plans to use the energy from the sun and from the flowing water to create comfort in his eco-resorts. For the inhabitants of the Andes it would be a nice way generating income; a good alternative for growing coca. For the ecologically concerned tourist it would be an exceptional way to enjoy the beauty of the high waters in South America.
Each family or party of up to 6 people will have its own houseboat to stay in. The houseboat can be moored to the central facility with reception, restaurant and other communal services. The electric propellers of the houseboat allow you to explore the neighborhood and find a place where you are alone with the birds and the fishes.


The propeller of the houseboats that are moored in the Amazon River works as a generator. The energy is stored in batteries. You will live comfortably on board. Disconnected from the central facility you can make a tour of hundreds of kilometers downstream the Colombian Amazon and admire safely the attraction of the tropical rain forest. Regularly houseboats will be towed back to the central facility. A similar plan could be realized on the Orinoco River.
If you like the plans of Captain Santiago Ferro — please mail him at santiagoferro@aol.com or place your remark below.