Ecoboot on BBC World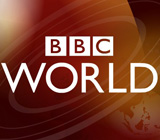 Alix Kroeger of BBC News went to Maasbommel in The Netherlands to check out new ways of dealing with climate change. Floating houses are a perfect solution when water threatens a densely populated country from all sides: more rain, more water carried by the rivers in certain periods, and rising sea levels. Read here our transcript of the interview with experts and residents of floating homes including snapshots of the TV broadcast.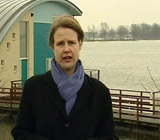 In the Dutch winter water is everywhere. It seeps out the air and the ground. The ferry is sometimes the only way to get across. This is the most densely populated country in Europe. The pressure on the land is intense.
If anybody knows about flooding, it is the Dutch. After all, they had centuries of experience, but now with climate change, the threat is greater than ever before. And some of the solutions on trial her attract world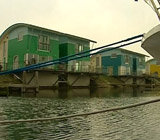 wide attention.
In the city of Maasbommel a new development: houses that float. A hollow concrete cube at the base gives them buoyancy. A central pile anchors them to the ground so that they don't drift away. Electricity and water are pumped in through flexible pipes. It is a model which could help resolve competing claims on the land .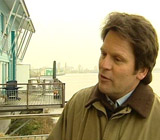 Comments spoken by Dr. Chris Zevenbergen:
"The land claim for economic activities, economic growth, as well as the land claim the will be taken by the water. So when you can combine those two, and create a community which coexists with water, then you have, I think, a very sustainable solution."
When it floods, the houses rise with the water. The owners are left undisturbed.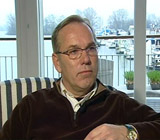 Comments spoken by Owner floating house:
"You can build it very big; you can build it very small, but I think that it is for a lot of countries that have the same problems as here, that it is a good solution."
Dutch scientists predict that sea levels will rise by up to a meter in the next hundred years. For some the search for solutions should go further. Not just houses, but whole cities, build on the sea.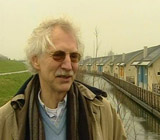 Comments spoken by Prof. Frits Schoute:
"The land is still sinking a bit, the sea level is rising, the rivers bring more water in certain periods [year] after year, so our traditional way of just fighting the sea with dikes has to give way to alternatives."
Those alternatives take time to develop. But here, at least, work is well under way. A signpost to the future in a waterlocked world.
Alix Kroeger, BBC News, The Netherlands.
If you want to read more about this broadcast, please visit the BBC World Service site.