Floating city IJmeer (near Amsterdam)
A consortium of groups of TU Delft students won the first, second and fourth prize with their innovative solutions for crowded deltas. The design of a floating city between Amsterdam and Almere won the first prize. With large thermodomes -as already envisaged by Buckminster Fuller- the city is largely self-sufficient. Nevertheless the design gives inhabitants ample room to park their car in front of their house. Click here to download a 6.7 MB PDF file with nice pictures and a full description of this winning design.
The second prize was won by the group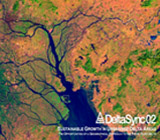 which was researching the options for sustainable development in the Pearl River Delta in China, an area environmentally endangered and very sensitive to flooding. Their two-part solution consists of an ecological zone on the banks of the Pearl River, which provides space for flooding, and the use of fish ponds, which can store water in case of excessive rainfall and provide water in case of drought. You can read their full research in this 16.4 Mb PDF file.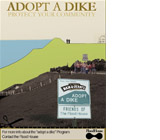 An honourable mention was received for the concept of a "Flood House", a flood-proof information centre/memorial site in New Orleans. It would provide space for research, education and workshops on flooding and possibilities for flood protection and in the survival shop people would be able to buy products that could increase their (sense of) safety. Here you can download a PDF file of the whole concept including some very nice pictures.
The fourth group thought of a system that would help the Bangladesh community to build their own sustainable protection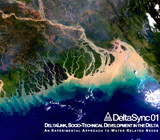 against the flooding of the Ganges delta and the heavy rainfall. The system consists of a compilation of technological and infrastructural solutions in an online platform for collaboration, DeltaLink, together with a strategy to let professional and organisations participate in the development of sustainable flood-protection for Bangladesh. See here their full research in a 9.3 Mb PDF file.