Floating Pavilion for Shanghai World Expo 2010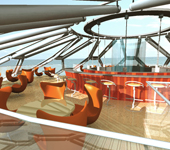 In Juli the DeltaSync-team of the TU Delft, together with the municipality of Rotterdam, presented the concept of a Floating Pavilion to the World Expo Committee in Shanghai. The presentation was attended by around 50 officials, several news channels such as Shanghai Television (SMG), CCTV and Dragon TV and a handful of papers (including the Oriental Morning Post and the Shanghai Daily). The design has been received as an inspiring concept that well suits the World Expo's theme: "Better City Better Life". Shanghai's Urban Planning Bureau is currently investigating the possibility of having the Floating Pavilion function as one of the five main entrances to the Shanghai World Expo area.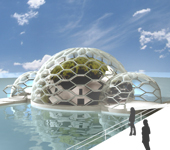 The floating building features five interconnected bubble shaped domes which house a large auditorium, a 3d cinema, an exhibition space and a 'skybar', situated on top of the the tallest sphere. The shape is inspired on the natural phenomenon of bubbles, which have an optimal surface/volume ratio. This shape offers an optimized building climate, but also ensures stability on water.
The design is intended as a pilot project for sustainable urbanization on water. A first step to overcome the predicted sea-level rise and a way of creating new space in the metropolitan city of Shanghai. Besides offering a solution for sealevel rise the design intends to contribute to sustainable technologies such as rain water harvesting and Thermal Energy Storage (TES) systems. The pavilion can also be re-situated after the World Expo has ended, in order to receive a new place and function.