Sustainable and comfortable living on a sailboat
Groningen, Friday July 16, 2010, Wubbo Ockels' Ecolution touched water for the first time. Whereas Ecoboat (www.ecoboot.nl) is mainly a way of thinking about sustainability, the boat Ecolution actually realizes sustainability. Wind power is literally and figuratively the driving force for sustainability on board. While sailing, the propellers drive their generators (which can also act as motors) to recharge the batteries. One day of sailing stores enough energy for up to 10 days of comfortable living on board. More information on www.ecolutions.nl.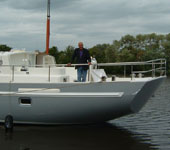 The inventor Wubbo Ockels.
His first steps on board the floating Ecolution.
Click for a full size picture.