Adaptive Urban Development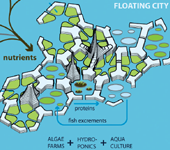 To avoid severe shortages in 2050, existing metropolises must transform into flood proof ecocities. Moreover parts of these cities + food production must be located on the water. These solutions were presented by Ruger de Graaf in his Inaugural Lecture on the Blue Revolution. Below (following read more) you will find a summary + a link to his book presented after this lecture.
Professor De Graaf quantifies that, even with wiser use of the available land, the word will lack in 2050 an estimated 22 million square kilometres, or more than two times China. If the required CO2 compensation is taken into account, the shortage is even much larger (DeltaSync, 2012).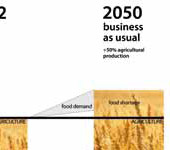 But, if we follow his plea for a Blue Revolution (i.e. locating a part of the urban areas on the ocean and replacing inefficient food production on land by efficient sea based production) then we will even have a surplus of available land. At the same time we will make better use of the seas and oceans, while contributing to a circular economy.
Summary
It is expected that until 2100 a total of 5 billion people will move to cities. Per day this means a 150,000 people start to live in a city. In the same period, resources such as fossil fuels, fresh water resources, phosphates and fertile topsoil are running out.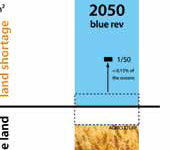 This unprecedented urbanization process will convert a large part of the fertile croplands in urban areas. At the same time the food demand from this shrinking productive area will double due to population increase and rising living standards. Most of the urbanization will take place in vulnerable delta areas. Global flood damage will increase from a current 20 billion US$ per year to 50 billion US$ a year on average in 2100. To create a perspective to deal with this huge challenge in the 21st century, two things are needed. First, the current parasite cities need to transform from parasitic and vulnerable cities into productive and resilient cities. Transforming the existing cities, however, will not be enough to deal with the challenges the world is facing. The second component of the strategy therefore means that a part of the cities and food production should be located on the sea to create more space. Floating cities should be surrounded with floating food production to use the waste nutrients and CO2 from land based cities. The crops, fish and biofuels that are produced will be partly supplied back to the land based cities and consequently close the nutrient and carbon cycles at a city level all over the world. This adaptive urban development will create a symbiosis between cities on land and water in the 21st century.
Adaptive Urban Development
A symbiosis between cities on land and water in the 21st century
Rutger de Graaf
Available from Rotterdam University Press as booklet and here as PDF